Regular price
$52.97 USD
Sale price
$28.97 USD
Unit price
per
The Glass Rinser thoroughly rinses residue in seconds, with high-pressure water jets that reach where you can't.
From baby bottles to juice glasses to travel cups, it conveniently rinses virtually any drinkware, so you can spend less time soaking and scrubbing.
Its sleek, low-profile design coordinates with any faucet and it can be easily installed in an empty countertop hole, such as those used for soap dispensers and sink sprayers.
Easy to operate with one hand, just press the high pressure nozzle with the cup mouth down. Can be connected to either the hot or the cold water supply line.
When you only have one free hand, removing milk and formula residue from narrow baby bottles can be difficult. Let the cap washer remove residue in seconds with one simple push.
The automatic cup washing machine can be used in home kitchens, coffee shops, restaurant, milk tea shops, or hotels, etc... to quickly rinse baby bottles, travel cups, coffee mugs.
Ensuring effective cup cleaning, bringing much convenience for you. What's more, it would be a great gift for you who want to save time and effort.
Main Features
➤Easy To Use
Generally the pressure of tap water can be used for cleaning. Put the mouth of the cup downward and press the bottom of the cup lightly and automatically spray water for cleaning. When the cup is cleaned, remove the cup and stop spraying water, the cleaning is completed.

➤Multi-angle Water Outlet Cleaning Head
Powerful water realize multi-angle spray hole washing jets thoroughly rinse residue in seconds, while the subtle overhang directs water flow into the kitchen sink for easy clean-up.


➤Easy Installation
The sleek, low-profile designcoordinates with any faucet and can be easily installedin an empty, standard countertop hole. The required supply line (included) can be connected to either the hot or cold water supply line.



➤Widely Used
It iswidely usedand a good helper for bar, public house, coffee shop, milk tea shop, restaurant, hotel and so on.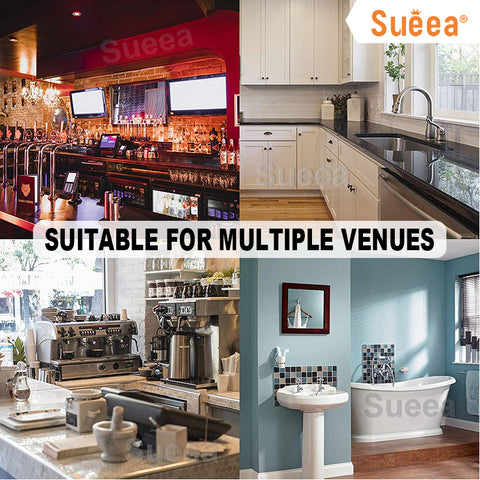 View full details